Share
Spring is here and not too far behind that is the warm weather of the Summer. The beach will be calling soon, and many families will be flocking to 30A to enjoy the sun and sand. Others will crave the open waters of the Gulf of Mexico for fishing, scalloping and scuba. For those who desire these activities in and around Santa Rosa Beach, Fl., Boss Boat Rentals 30A is the pontoon boat rental company of choice.
Boss Boat Rentals 30A offers pontoon boat rentals that include:
Gas – unlike other companies that charge customers hefty fees. They just ask that customers return the boat with at least a 1/4 tank of gas to avoid running out of gas.
Towels and a cooler with ice and waters!
Personal flotation devices
Designed to accommodate several people at a time, a pontoon boat is the perfect way to enjoy the open water. The boat rides on two separate pontoons, allowing for a large, flat surface for people, picnic supplies and scuba gear. Some boats even have on board grills. While in Santa Rosa Beach, family activities include Crab Island, a local attraction, ziplines, arcades and playgrounds. Feel free to roam the beautiful Choctawhatchee bay, the gorgeous bayous, the Sandestin marina, the Destin harbor, or anchor the boat at Crab Island.
Each rental comes with a full tank of gas. All boats are new and maintained regularly. Personal flotation devices are on board for adults and children alike.
Learn more about Boss Boat Rentals at their website. Go to www.bossboatrentals30a.com for details, rental opportunities and boat pictures.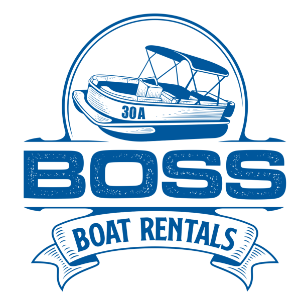 At Boss Boat Rentals we rent brand new pontoon and fishing boats. We meet our customers, so that they do not have to drive as far for their boat rental needs. We are family owned and operated. When you call,…
60 Turtle Creek Dr
Santa Rosa Beach
FL 32459
United States
(850) 608-3077
https://www.bossboatrentals30a.com/